Scalableline & scalableline pro
Scalableline & Scalableline PRO
Scalableline 4K is a Displayport 1.2 extender remote unit or local unit over IP in fiber, covering a range of up to 300 m at a
resolution of 4096 x 2160 @ 60Hz (5K: 5120 x 1440 @ 60Hz) with a perfect color coding with 4:4:4 @ 8 bit per color.
Scalableline provides KVM extension in real-time over IP networks while combining it with a multiviewing function out of the box.
A typical Scalableline setup consists of a network of multiple Scalableline transmitters, at least a single Scalableline
console and a Switching Manager. The Scalableline console can handle up to 16 KVM streams at a time and
display them on an up to 4K/5K display either in native resolution or scaled down to fit into user-defined layouts.
Overall system-generated extension and multiviewing latency is less than 1 ms. Considering a typical LAN for
transporting the signals, overall latency expected is within 1 ms.
Switching & KVM Management
Management via OSD or with the included Switching Manager software. The
intelligent software allows a comfortable management and intuitive operation of the KVM extenders in the switching
system. A Windows PC or VM with network interface in the network is required for the commissioning
and operation. Switching up to 2000 endpoints. Compatible with standard 10G network switches (Layer3).
Multi-Display work areas
Scalableline consoles can be grouped together in a Mouse Glide & Switch configuration
to provide single keyboard and mouse control for up to 4 (SCL)/16 (SCL PRO) consoles. Simply moving the
mouse pointer over the edge of an individual KVM stream will seamlessly switch over K/M control to the other
KVM stream. Within each layout, operators can select their source according to their access rights.
Compatibility and Scalability
The IP based transmission protocol allows expanding the system quite easily by providing additional network infrastructure
and bandwidth. Scalableline is also compatible with Media4Kconnect and standard Flexline components
while scaling these sources is not possible or with limitations only. If scaling with Full HD sources is needed,
the solution is the Maxflex Dual CPU and Scalableline PRO.
Audio and Multiviewing
Scalableline provides analog and digital audio transmission options. Both stereo audio signals can be configured
to either remain tied to a specific source (fixed audio) or follow the K/M controlled source (focused audio). Scalableline
PRO consoles also allow for combined audio with level control (digital audio only), providing acoustic alarms of
all actively displayed sources within a layout.
Cropping: Select and scale parts of images/streams
PIP: Picture in Picture Display and overlapping windows.
The Multiviewing Specialist
The Scalableline and Scalableline PRO is the must-have in controlrooms and all applications which require multiviewing. Freely scalable and up- and downscaling options guarentee a flexible KVM operation and system architecture.
kvm-tec Scalableline & Scalableline PRO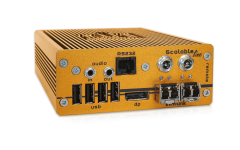 Freely scalable
Up to 16 sources – multiviewing
Up & down scalaing
Supports multiple layouts
Dense mounting capability
Fanless operation
Compatible to existing Flexline and media4Kconnect systems
Combines extension and multiviewing seamlessly
Scales easily in terms of application size
Please contact us for further information. Schedule an appointment on-site, or set up a phone call with our expert team.