The Draco vario ultra DVI extender gives users of Draco ultra systems real-time access to DVI and VGA computers from a remote workstation, including monitor, keyboard, mouse and other peripheral devices.
Access VGA and DVI sources
Draco vario ultra DVI (Series 494)
Integration of analog servers
The DVI-I CPU Unit is designed for a maximum of signal flexibility at video sources such as computers or servers. Both DVI-D and VGA signals are supported at the input. This ensures the proper usage of e.g. old VGA servers or modern computers with a digital DVI-D interface.
Scalable to DVI standard
As VGA based video applications very often come along with smaller resolutions, the device enables upscaling to 1080p or 1920×1200 that is naturally supported by most DVI-D monitors. The configuration of the device in order to meet any specific applications can be easily done via integrated OSD menu using the keyboard for control.
Full compatibility
With respect to compatibility, the device can be used with any kind of Draco extenders and add-on modules, including DisplayPort and HDMI devices. The DVI-I CPU Unit is also suitable for the use with Draco tera matrix switches.
Draco vario ultra DVI (Series 494)
Input of DVI-D and VGA signals, depending on the application
Extended configuration options via OSD
Integrated scaler (1080p, 1920×1200)
Variety of supported Single Link input resolutions
Lici® (Lightweight Image Coding technology)
Superior image quality in all resolutions
Redundant data link (optional)
19" rack mount kit (optional)
Power supply included
Compatible* with all:
– major operating systems
– chassis of the Draco vario series
– IHSE Draco KVM matrix switches with XV interfaces
– other main modules of Draco vario ultra extenders
– Draco vario add-on modules for audio and data signals such as USB 2.0, balanced audio or RS232
*Video Transmission of the Draco vario ultra extenders (series 49x) is not compatible with the main modules of Draco vario Classic (series 47x/48x) and the Draco compact extenders (series 477) .
Draco vario ultra DVI (Series 494)
Maximum transmission range for video and USB-HID signals (end-to-end connection)
Cat X: 140 m (459 ft)
Single-Mode 9μm: 10,000 m (32,808 ft)
Single-Mode 9μm XV: 5,000 m (16,404 ft)
Multi-Mode 50μm (OM3): 1,000 m (3,280 ft)
Multi-Mode 50μm: 400 m (1,312 ft)
USB 2.0 embedded, analog audio with RS232 or RS422, digital audio, PS/2, balanced audio
Notice:
Transmission ranges for transparent USB when using add-on modules
When using L474/R474 add-on modules with transparent USB, the binding specifications stated in the data sheets of the add-on modules apply.

Draco vario ultra DVI (Series 494)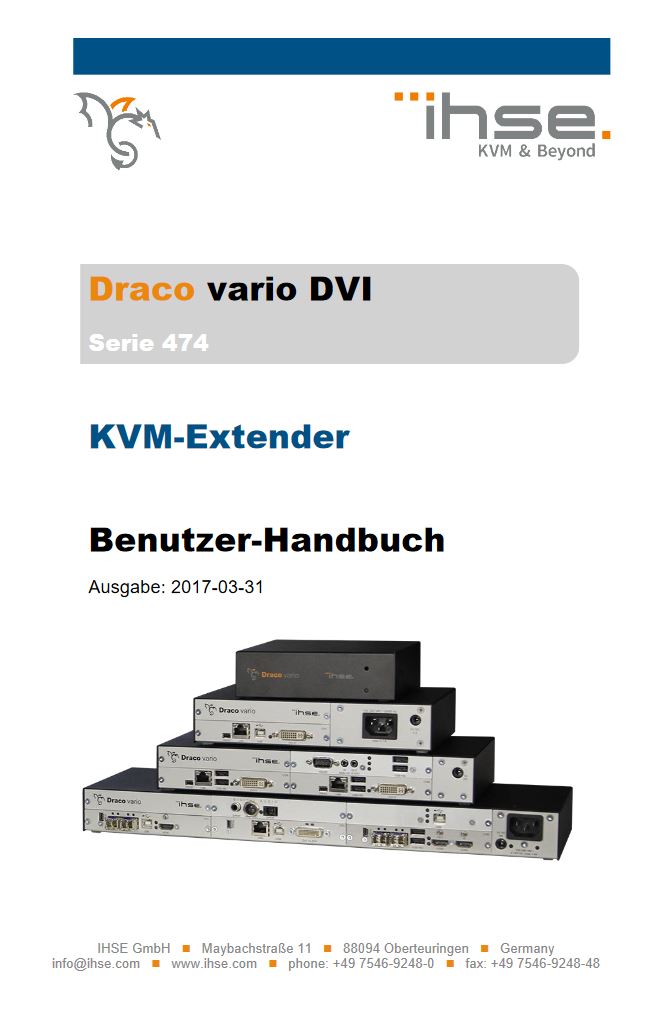 Do you need further information?