Mark Hempel
Head of Production Management
TRUE KVM: In-band Signaling and flexible Out Of Band Connectivity ensures minimum cabling invest while maximizing KVM switching and control performance
A Keyboard Video Mouse (KVM) switching system is primarily designed to provide a user experience comparable to a direct connection to the target PC and at the same time offering connectivity to a large variety of different PCs providing control commands giving access to many different software applications running on different PCs, servers or in the cloud. Modern systems also must enable status information about which user stations or operator desks are connected to which target application. Technical staff must be able to set up the system and configure users, the switch and applications connected.
The key differentiator of a TRUE KVM system is its purpose-built design end to end. This includes the KVM switch enabling the handling of all signals with a single unit. At the edge of the system, the KVM extender endpoints (CON and PC units) process system information, multiplex and encode/decode payload information and transmit/receive all information over a single line connection to and from the TRUE KVM switch.
Flexible Connectivity – In-band Signaling
The main challenge for the KVM system is to remain flexible in terms of connecting all kinds of devices and offering a large variety of physical interfaces and standardized or proprietary protocols. All the payload information must be processed and conditioned for the connection over a single line to a single KVM switch. This not only requires a vast library of supported devices, it must also ensure an operational verification. Most standards are well understood, but the various states transmission protocols such as USB provide, offer a whole host of possibilities to interpret the state machine slightly differently. This can lead to lost connections and is clearly unacceptable for a mission critical system like in a broadcast production or in a power plant control room.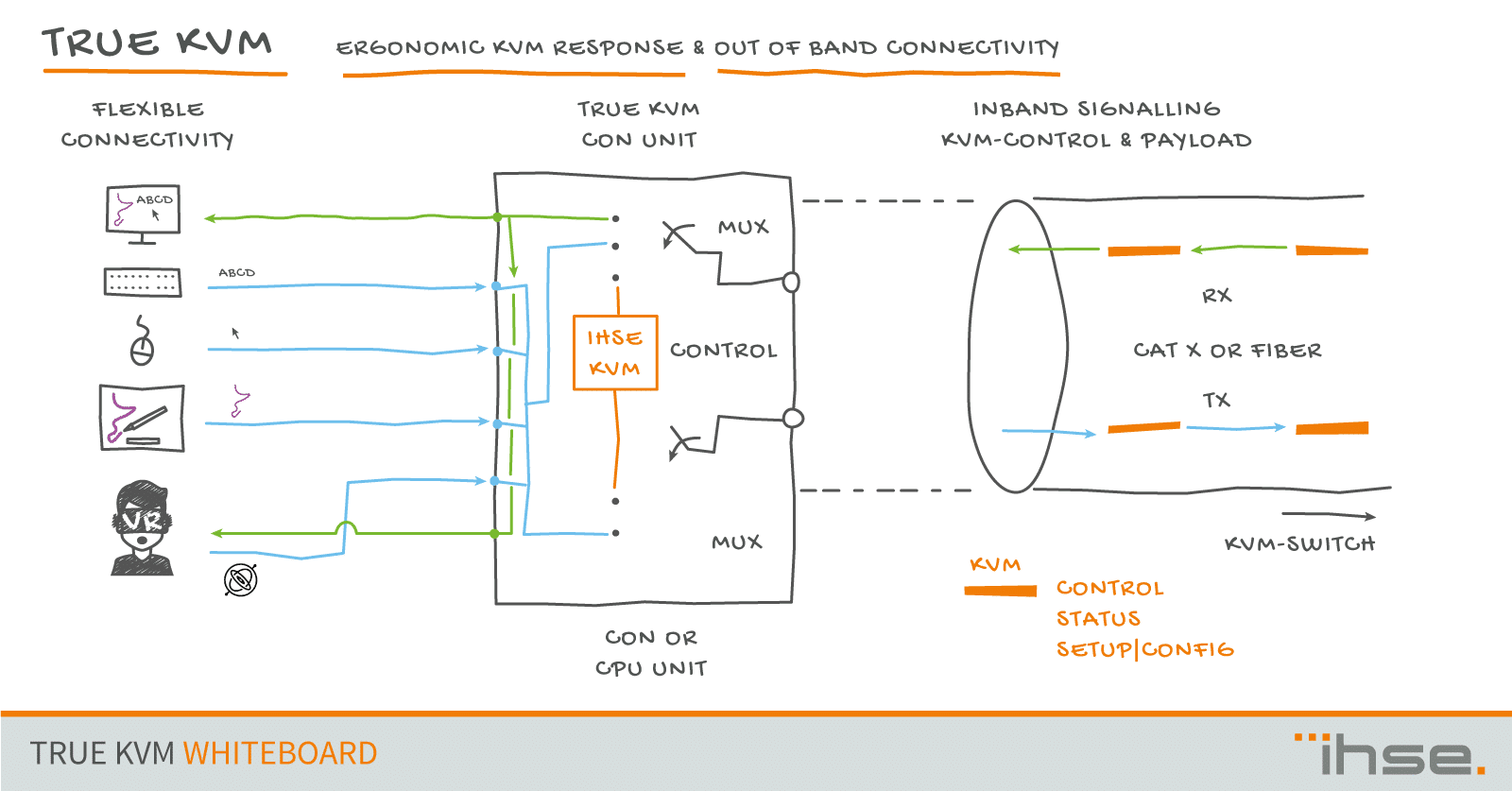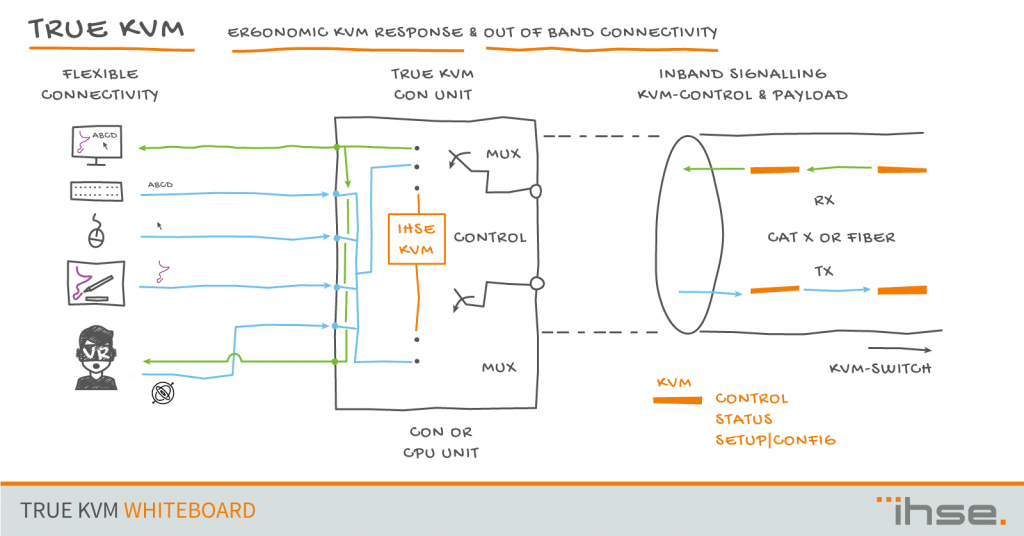 Hidden cost
When comparing KVM system implementations, customers need to learn different solutions from various vendors. This is a difficult task. Though systems appear similar at first glance, different system architectures can become a costly burden. Using dedicated switches by application formats such as USB or video may appear to provide redundancy. They however dramatically increase the complexity for overall system management and supervision, require additional technical training, increase response times and the cost for spare parts. Additional infrastructure also introduces additional points of failure potentially causing loss of service.
The connection between the operator desk or Virtual Reality (VR) user and the KVM switch is expected to require as few physical resources as possible. A significant part of the system cost stems from the cable connection installation. Especially, when the system has to be installed while normal operation in the facility continues.
TRUE KVM is the system architecture offering the widest range of connectivity in terms of signal formats such as audio or video as well as different types of devices using serial connections such as USB. CON and PC units extent signals over a single line connection to the KVM switch reducing overall infrastructure, speeding up installation and enabling system wide administration and configuration.
If you would like to discuss TRUE KVM with me in more detail, please leave a comment, send me a message or contact your technical support or sales teams at an IHSE office near you. We are here to help you get the most out of your KVM system.
Yours
Mark Hempel