Michael Spatny
VP Sales and Marketing
Successful Channel Partner – Manufacturer relationships are based on trust and actions
Last week, I shared my thoughts on what I think is fundamental in a flourishing relationship between Channel Partner and Manufacturer to create a Success Zone for both. Trust, Loyalty, Commitment and Results. Today, I wanted to take a closer look at TRUST, the foundation of any successful relationship. How do we at IHSE balance this situation?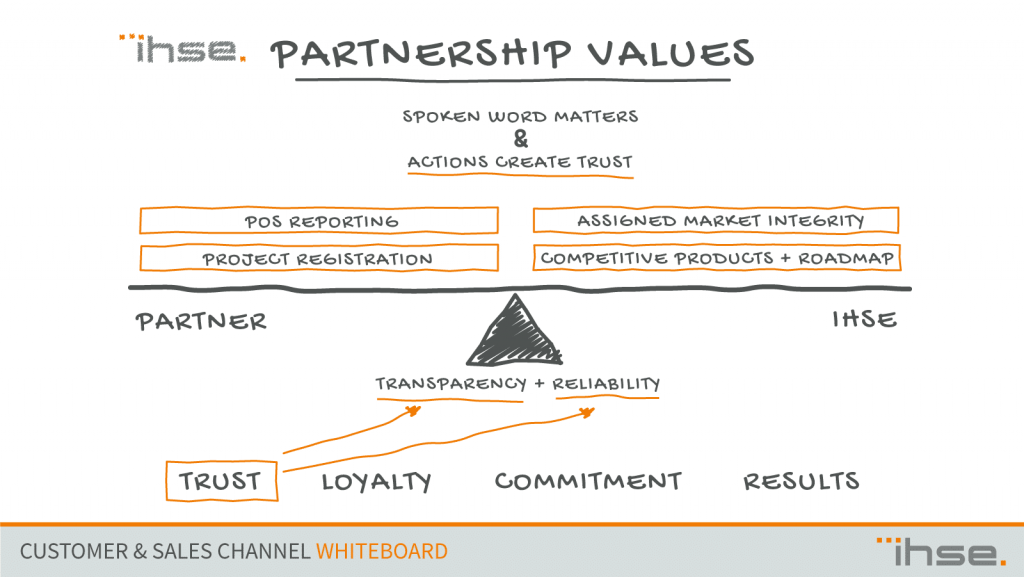 The key element for me is that trust is earned. Trust cannot be promised. And while words matter, only actions really create trust. I really like the quote attributed to Chris Butler:
Trust is earned when actions meet words. – Chris Butler
At IHSE, we understand that we have to earn the trust of our partners by giving them competitive products and superior technology roadmaps to equip them to win business in the market place. And when we agree with a partner which market they cover, we will do our best to protect their investment and work in this area. Personally, my actions are devoted to earning the trust of our partners.
The actions we are looking for are focused on business visibility. Reliability in the forecast and transparency in the customer sales activities enable trust. The key actions are project registrations as well as point of sale (POS) reporting.
The only way to be successful in the long term is to create a mutually beneficial environment for the Channel Partner and the Manufacturer. It is a give and take where trust is the fuel to win in the market.
You want to work with us to shape the future?
Lets talk.
Yours
Michael Spatny