The Draco tera compact (with 8, 16, 32, 48, 64 and 80 ports) is a matrix switch especially suited for small and medium installations. With fiber optic and Cat-X connections as well as hybrid versions for both module types, it offers high performance at an attractive price.
Compact KVM matrix switch
Draco tera compact (Series 480c)
The Draco tera compact switch with its form factor of max. two 19" rack units is specifically designed for smaller and mid-sized KVM requirements using the same technology found in the larger Draco tera enterprise matrix systems. Based on a small footprint package, the cost-effective frame can be used with all of the Draco extender modules creating the world's widest selection of KVM solutions. It is a simple operation to set up and configure the matrix with the On-Screen Display (OSD) or through the feature-enhanced Draco tera Tool.
Extenders can accommodate a variety of signal formats and the Draco tera compact auto-senses the individual units through any available port on the chassis. By simply connecting the extender to the chassis, the internal firmware will recognize and auto-configure the port as a CPU or console device. This Flex-Port technology provides a huge time saving for system installers who normally have to pre-configure ports to specific I/O requirements. The system includes instant switching technology for all the popular formats up to 4K resolutions at 60 Hz and 10 bit color depth (4:4:4).
With incredible speed, switching between sources is glitch-free and instantaneous thus reducing eye strain and annoying video tearing found with other systems. With the small footprint and ruggedized chassis design, the Draco tera compact is the perfect KVM space-saving solution where centralized switching of KVM is necessary. It is especially suited for factory floor automation control systems, production studios, OB Vans, and command and control environments.
Draco tera compact (Series 480c)
Compact size 1 RU or 2 RU
Port connections for Cat X, fiber, coaxial
Instant switching
Latency-free video transmission
Flex-Port technology for dynamic port assignment
Mix & Match (fiber ports can be switched to Cat X ports and vice versa)
Matrix Grid option allows multi-matrix connections through Grid lines
Java based tera tool for configuration, operation and maintenance
Multi signal support: KVM, USB 2.0/3.0, SDI (SD/HD/3G)
Remote extenders can be updated through the matrix
API Service for connection with media controllers
Multi-Screen Control (new firmware up to 8 ports)
LDAP user management
SNMP & Syslog monitoring
Redundant power supply
Support of fully or partly matrix redundancy
Draco tera compact (Series 480c)
DisplayPort, HDMI, DVI-D, DVI-I, USB 2.0, USB-HID, RS232, RS422, analog / digital or balanced audio
Draco tera compact (Series 480c)
All Variations
| Image | Modell: | Description |
| --- | --- | --- |
| | K480-32C | Draco tera compact 32 ports, Cat X |
| | K480-16C | Draco tera compact 16 ports, Cat X |
| | K480-08C | Draco tera compact 8 ports, Cat X (chassis version with integrated power supply) |
| | B480-08C | Draco tera compact 8 ports, Cat X (module version for mounting in Draco vario chassis) |
| | K480-48C | Draco tera compact 48 ports, Cat X |
| | K480-64C | Draco tera compact 64 ports, Cat X |
| | K480-80C | Draco tera compact 80 ports, Cat X |
Draco tera compact (Serie 480c)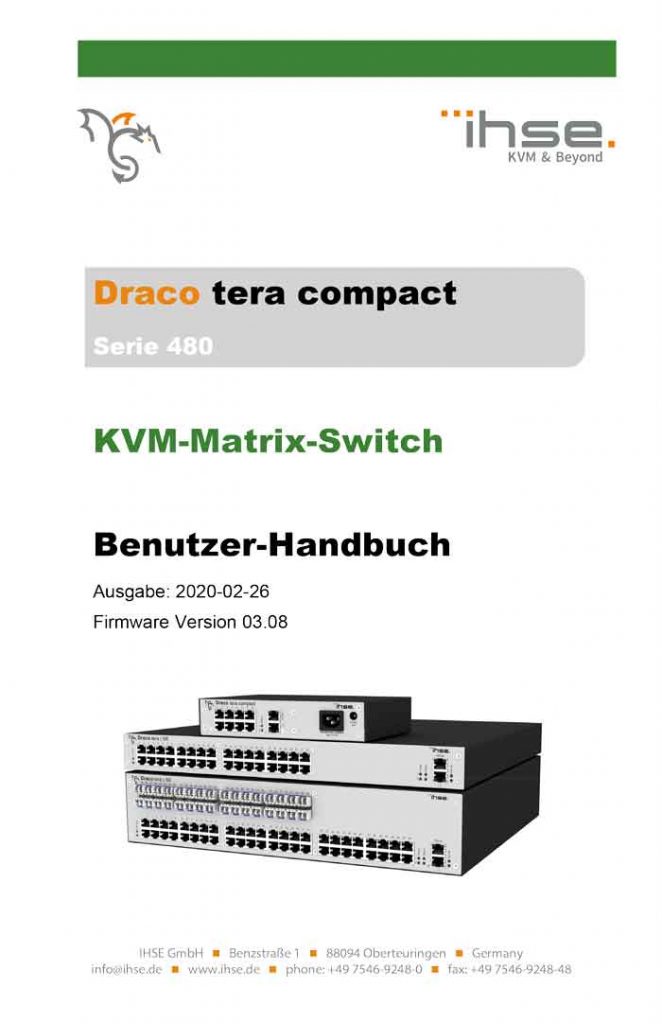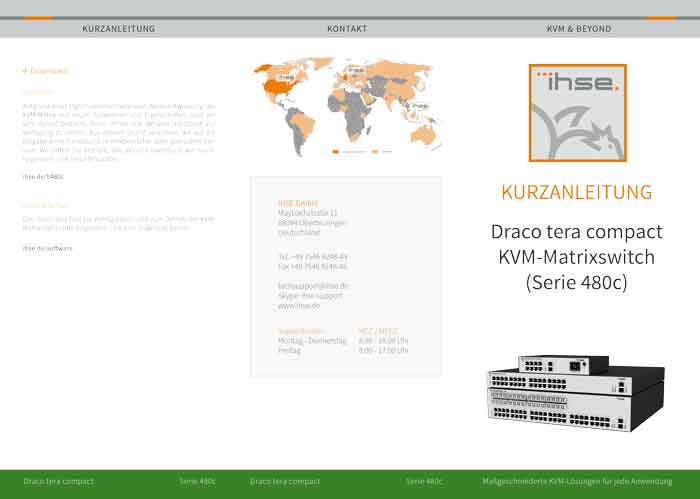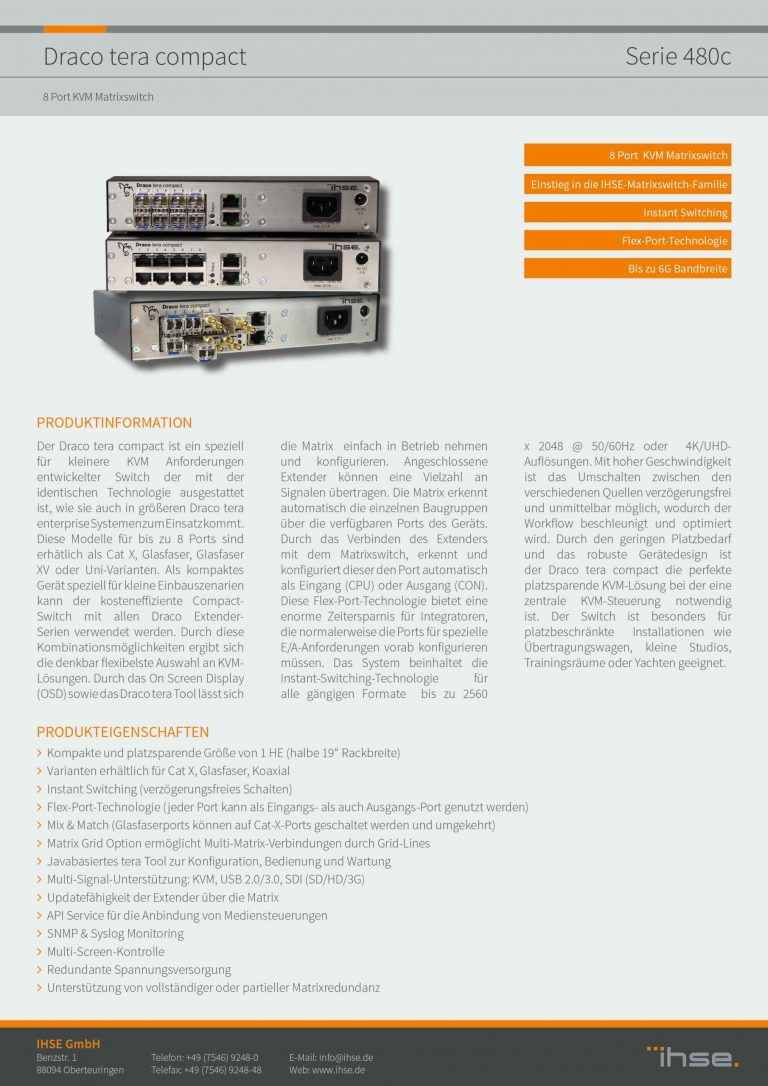 Do you need further information?