The Draco SIRA CPU enables the seamless integration of virtual machines into KVM systems.
Draco SIRA CPU (Series 488)
Concept
The Draco SIRA CPU (Secure IP Remote Access) combines the functionality of a thin client and a KVM extender (transmitter). This space-saving solution is fully compatible with the Draco vario extender and the Draco enterprise and compact matrix switch series.
Function
The IP module provides seamless KVM connectivity to an IP infrastructure. It supports RDP, RemoteFX, SSH, VNC and HTML5 protocols (access via kiosk mode). Further remote protocols will be incorporated in future and can be made available on demand. A single Draco SIRA CPU can host up to 8 simultaneous sessions.
KVM meets VDI
Using RDP or RemoteFX protocols the Draco SIRA CPU provides KVM access from individual workstations to virtual machines in the same manner as accessing real PCs. Remote maintenance and installing updates are also possible. Besides keyboard, video and mouse signals, audio and transparent USB data can also be routed through the device.
RDP and the benefits of KVM
The KVM infrastructure adds extensive flexibility to an RDP session. RDP sessions can now be shared amongst multiple users, delivering better collaboration and control room solutions.
Immediate access
Immediate access to real PCs and virtual machines is achieved through permanent connection. Switching between the two types occurs instantaneously, with no disruption or inconvenience to the users.
Single Sign On
For ease of operation, the system can be configured to support SSO. Single stage user identification is all that is required, either locally or via AD. User credentials are stored for future connection setup.
The Draco vario Remote IP CPU is still available as a starter model with basic functionality.
Draco SIRA CPU (Series 488)
Integrates with IP infrastructure without compromising security
Link redundancy for fail-safe operation in mission critical applications
Homogeneous integration into traditional high-performance Draco KVM systems
Compatible with all Draco vario chassis allowing power redundancy and dense mounting
Improvement of the usability
Draco SIRA CPU (Series 488)
RJ-45 or LC Duplex (single-mode)
RDP, RemoteFX, SSH, VNC (Client), HTML5 (further protocols on request)
Video: up to 1920×1080, Audio: 2-channel PCM embedded, USB-HID, USB 2.0 (embedded)
Cat X: 140 m
Multi-mode: 1 km
Single-mode: 10 km
5VDC (via Draco vario chassis)
Draco SIRA CPU (Series 488) / Draco vario Remote IP CPU (Series 488)
Draco vario Remote IP CPU (Series 488)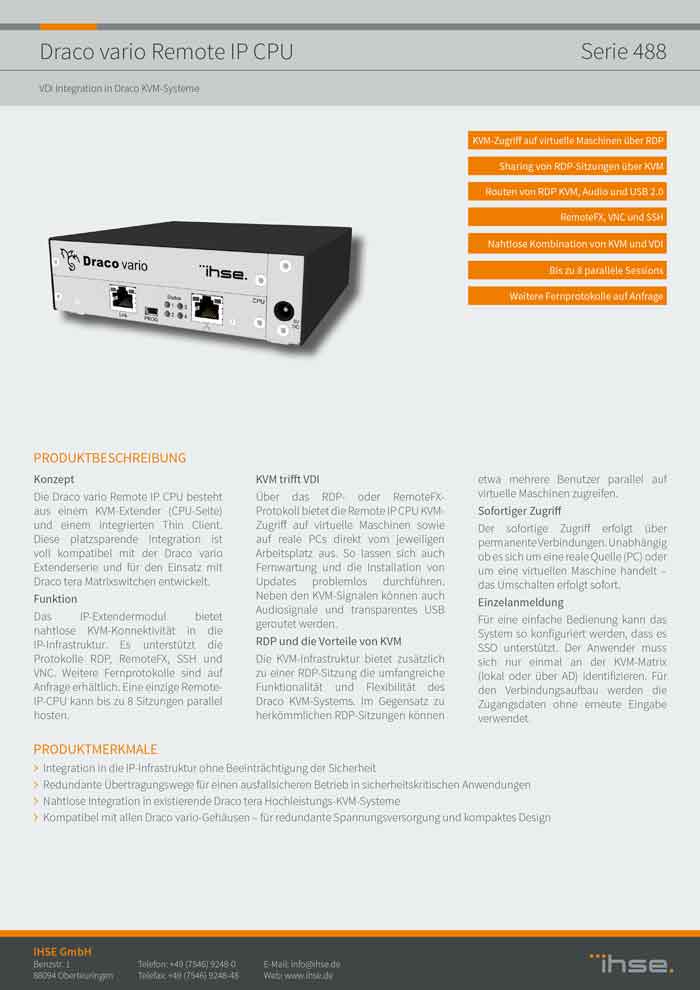 Do you need further information?