Operation of computers from a remotely located workstation
KVM extenders enable the operation of computers from a remotely located workstation. That makes it easy to protect critical CPUs and servers from dirt, moisture and unauthorized access. Operators are relieved from heat and noise disturbance. Their desks simply require peripheral devices such as monitors, keyboards and pointing devices.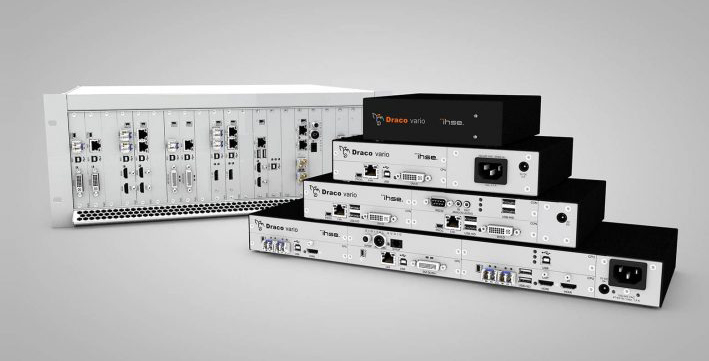 A wide range of KVM extenders in chassis and standalone mountingformat to suit individual requirements.Suitable for point-to-point extension ofsingle computers and in conjunction with Draco tera switches for long-distanceextension.
Analog and digital audio and video extension
Lossless transmission up to 4K 60Hz (4:4:4)
Single- and multi-head devices
Mixed copper and fiber configuration
Support for USB-HID, USB2.0 and 3.0
Extender and signal path redundancy options
KVM stands for Keyboard-Video-Mouse, referring to the familiar workplace computer input and output devices.
Our mission-critical system solutions extend the distance between the computer and peripheral devices (keyboard, screen, mouse). Allowing users to select between different source devices to create more comfortable and efficient working environments and streamlined workflows. We offer KVM products for the switching, sharing, extension and conversion of all types of computer signals, including analog and digital video and audio, USB and SDI video; applicable to all markets. Long distances are bridged by Cat X, fiber or mixed cabling, depending on requirements and applications
What products and solutions do we offer?
KVM extenders enable computer access from remotely-located workstations. This makes it easy to protect critical CPUs and servers from heat, dirt, moisture and unauthorized access.
Removing noisy, bulky, heat-producing computers from the operator workplace creates a more pleasant, less-cluttered, working environment Users' desks simply require basic peripheral devices: monitors, keyboards and pointing devices.
A KVM matrix switch enables access to, and management of, any size of computer installation. Sources can be accessed, switched and shared instantly by users. Any connected user console, consisting of keyboard, mouse, monitor or other peripherals, can access any computer within the network. Expensive equipment and software licenses can be shared between multiple users accessing the same computers from their individual workstations in real time.
Why are our systems modular?
Individual KVM modules can be integrated together to meet specific requirements. Enabling tailor-made solutions for every individual project. Standardized modules facilitate installation in common 19-inch chassis or rack cabinets found in server rooms.
Modularity offers a high level of investment security. Whenever new video standards are added or additional interfaces are required, the system can easily be expanded with additional modules. This saves time-consuming and cost-intensive system replacements.